Welcome to Homeschool Group Hug. My family is predominantly learning from life and I want to support you on your home schooling mission. In Australia we were classed as homeschoolers, maybe as unschoolers, in the UK I'm called a home educator. We are also worldschoolers. I really don't care what label anyone wants to put on us, the important part is, we're free of school. Sometimes we're free of work, too, and we're all learning from life.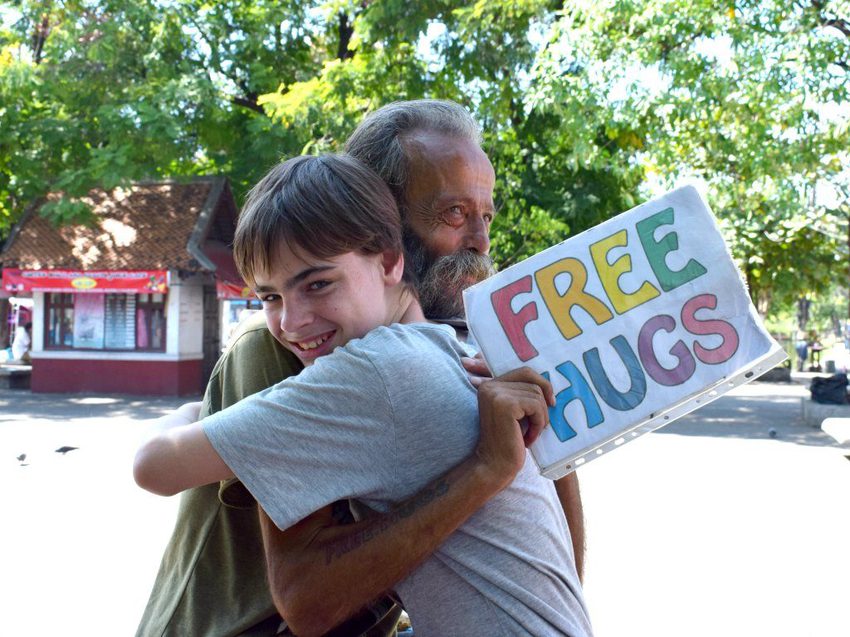 My elder child went to school from Queensland prep ( age 4) to the start of year 2 ( age 6 almost 7). Things were intolerable, the school wasn't meeting our expectations, so I pulled him out.
Since that day, over 7 years ago, he has flourished and our family has gone through big changes. My younger child has never been to school, was almost 100% unschooled to the point of reading and basic maths, and is doing just great.
About the Photo This is Luciano, he's been handing out free hugs in Chiang Mai Thailand for many years. It's a wonderful thing. The free hugs movement is global and I just want to reach out to all you homeschooling families and give you a virtual hug. You're doing great!
Learning From Life Gave Our Family Freedom.
We're not tied to the school calendar or to a brick building, we can learn wherever we happen to be. Once we saw that and grabbed hold of it tight, our lives changed for the better. We ditched our home and our possessions, my husband ditched his reliable job and I ditched my old identity. I wasn't a no-longer-employed professional scientist any more, my job became educating my kids and I realised what my life to that point had been all about.
I had a dream to take them to the learning, wherever that learning happened to be. So that is what we now do.
Another product of our new life has been my new profession, I'm a professional blogger, mostly in the travel sector, something I'd dreamed of but never thought possible. I made it happen and I love my work. It doesn't pay so well, but our financial needs are modest, we've structured our lives to be that way and we're happier than ever.
Do we Unschool?
Our learning style has changed month by month, year by year. That's natural, as you see what works and what makes everyone happy. My first months were very school-at-home, most people go through that phase.
After the deschooling ( for me more than the kids) came an unschooling phase, now we have balance, we've found what works.
I tended not to declare myself an unschooler, I'm certainly never going to be a radical unschooler. I mostly use the word homeschool. It's an umbrella term to me, covering all modalities. If asked, I prefer to say "They don't go to school." As time goes on I'm more and more pulled towards the concept of just learning from life, for that is what really happens.
My partial unschooling sometimes uses work books and online learning ( you can see which ones we use by clicking through), but mostly I give my boys freedom to do what they like, with a little subtle manipulation. Unschooling and homeschooling come in many shapes and sizes, everyone does it differently. You can find out more about how we used to roll educationally at this post, What Does a Homeschool Day Look like? a snapshot of our old, more conventional, life in Australia.  In later years our learning looked more like this Learning in London, or Learning from Australia. Our latest adventure in Homeschooling in Romania, click through to see why we're now often found educating in a beautiful peasant village in the Balkans.
I mostly reject the school system, it's schedule,  assessment systems and the prescribed curriculum. In Queensland, regulations forced me to write a curriculum, my own,with a little help from the boys and various online curricula. We had to keep the Queensland HEU happy so applications and reports had to be submitted and we had to be doing what they required. In reality we do much more.  I hope I can offer you some help with that reporting process if you are in Queensland, many of my applications, curriculums and reports are on this site.
We can offer you a free trial of Reading Eggs. Online learning programmes like these are great fun for the kids and make everyone's life easier. I have 2 fantastic readers today, both used Reading Eggs. Click the image below to give it a try.


We Learn as we Travel
We are now travelling the world full time, we think travel provides an amazing education for the children, that was our primary motivation in deciding to embark on this path. I write at our family travel website World Travel Family about all things travel, how to do it, why we do it.
If you're interested in travel please come and sign up to follow our journey over there. Some homeschooling posts make it onto that site, but I try to keep the majority on this site.
Homeschooling Around the World
This site isn't just for homeschoolers in Cairns or Far North Queensland, I would like it to be a global resource and community. Although we started our homeschooling  journey in Australia, we are a British family and our travels have now taken us, via 5 continents and 38 countries, to London where we are pausing to suck all the learning we can out of the city. Our other base is our Romanian house project.
Every homeschooler, in every country wants the best for their children, an amazing education and a wonderful life. We can learn a lot from each other, no matter what our nationalities.
I'm in the business of raising global citizens. I hope you are too!
Homeschooling in Far North Queensland and Cairns Homeschool Group
I was a member of the Cairns Homeschool Group. I set up this website initially to give the group an online presence. When I was new in Far North Queensland it took me a very long time to track down the Cairns group, I eventually found them by word of mouth. This site should come up in internet searches and make this friendly group easier to find. Find their page in the top menu or click through above.
Contact Us
Any contact, information requests or advertising enquiries, please email me at contact (@) worldtravelfamily.com
That's all for now, thanks for visiting and happy homeschooling!