Homeschool workbooks have been our favourite way to formally educate the children, right from kindergarten to high school.  That's my favourite way and the kids' favourite way. Workbooks allow mom to be a little bit hands-off sometimes, the heavy work is done already and we moms may just be able to cook lunch while the kids get stuck in.  Workbooks can cover just about any topic, they're cheap, light, easy to travel with and can do multiple duty in kicking educational goals. While your child is filling in his science workbook he's practicing writing, spelling and English grammar too! Homeschooling workbooks we have loved are listed below.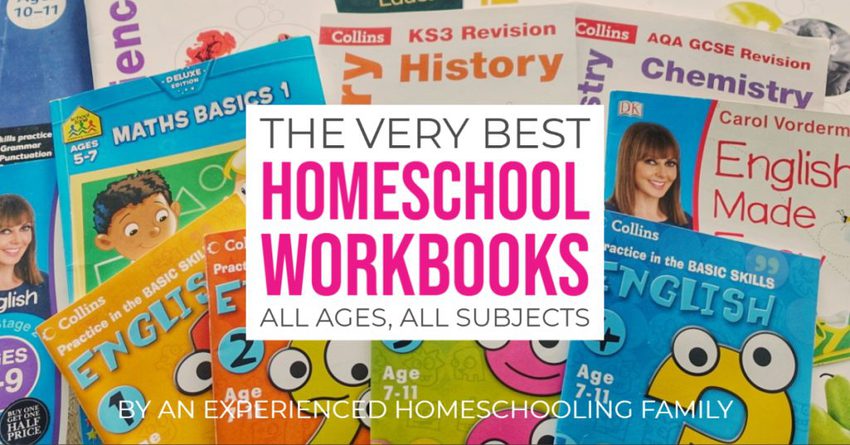 We include workbooks below for any age child. My kids are teens now, we've been through KS1, KS2 and KS3 already. You can find useful workbooks for any age or grade. Most of the workbooks for homeschooling are cheap, under $5 or so. For older kids the books become thicker and more expensive.
Obviously the workbooks are just one of the resources we use, but they are the most school-at-home of our homeschooling artifacts. If you check out our posts on homeschool resources you'll see that toys, games, the kitchen, the garden, movies, TV, YouTube, online learning series and the real world actually make up the bulk of the gear we use in educating our kids outside classrooms. We strongly believe that school is the worst place to get an education.
Homeschool Workbooks
We've tried to find homeschooling workbooks that are available in, and suitable for the UK, USA and Australia. Where we've managed to find an Australian equivalent you'll find a separate link. I've managed to order a lot of British school curriculum workbooks from Amazon Australia, but it's not as easy as finding them in the United States. If I can't find British, I'll substitute Australian or US freely, it's good for the kids to be aware of alternate spellings and idioms, I think. We all communicate online with people from around the world every day, we need to be aware of differences.
Advantages of Using Workbooks
Flexibility – choose the workbook to suit the child
Removes lesson planning
No printing worksheets
Can keep homeschooled kids occupied
Can be easy, fun or challenging
A great rainy day activity
Suitable for any age or grade level
Can be used to prepare for sitting exams.
It's easy to set goals and schedules
Tips for Using Workbooks
One of the great positives of homeschooling is its flexibility and our ability to tailor learning to the child and his interests. If you want to employ workbooks don't make the same new homeschooler mistakes I made. Don't force, don't push, don't expect hours of dutiful work. Follow signs signals, enthusiasm and interest levels closely.
Tell your child how many pages they must complete. If he knows he has 2 pages to do, it's less daunting than being faced with a whole book.
Wherever possible sit with your child while they work, keep it light, make it fun
Pour on praise, always.
If you don't want to store the completed workbook, photograph the completed pages in case ever required to show proof of past work.
Have quite a selection at home, that way, if you find your child dislikes one or enjoys another type, or just isn't in the mood for the usual – you can give them choice and make them feel more in control of their learning and their days.
Homeschool Math Workbooks
Times Tables Practice
Lots and lots of practice in this multiplication and division math workbook.for 3rd, 4th and 5th Grade kids.
General Maths Workbooks By Grade
Most workbooks come in grades levels, so here you can find grade 3, here grade 4, here grade 5 etc.
Homeschool Science Workbooks
This is the series of science workbooks we used when our boys were younger and we liked them a lot, we bought every book in the series and used them all except Kindi. Science is my subject. As a science graduate and professional scientist, I found them really good for young scientists. The diagrams and graphics are great.
If you want more ideas on homeschooling science, see our post on kitchen science, experiments and demonstrations from your own kitchen. There are lots of science based activities you can learn from at home with the items currently on your shelves. Our fun science resources and games are here.
Homeschool English Language Workbooks
Sight Words
This sight words practice workbook would be perfect if you're following a typical school- style reading program. I have to admit – we didn't do sight words, my boys learned to read without them, but I know plenty of people do use them, so here it is.
Cursive Practice
This cursive practice workbook is for those of you who still allow your kids to learn joined up writing. Do you know some schools don't teach it any more? For me that's unthinkable so yes, absolutely my boys can write in cursive. We started out using work books like these.
English Comprehension
English Comprehension workbooks are another box to be ticked. Try these examples below.
General English Workbooks
These School Zone workbooks were favourites of ours, we completed many of these, mostly around Grammar, spelling, comprehension and other language skills. I still have some here today, some of the very few we kept.
You can see this School Zone Reading Activities workbook here.
Geography Workbooks
We didn't use these, they weren't available as far as I know when my boys were younger but I'm so excited to see these Geography workbooks on sale in my favourite series. They also come in multiple grade levels, from Pre-K up. More homeschool geography resources are here.
Random Workbooks
Anger Management Workbook
Who knew anger management workbooks were a thing? Take a look here.
Thriving With ADHD Workbook
This ADHD workbook could be useful for your ADD or ADHD child.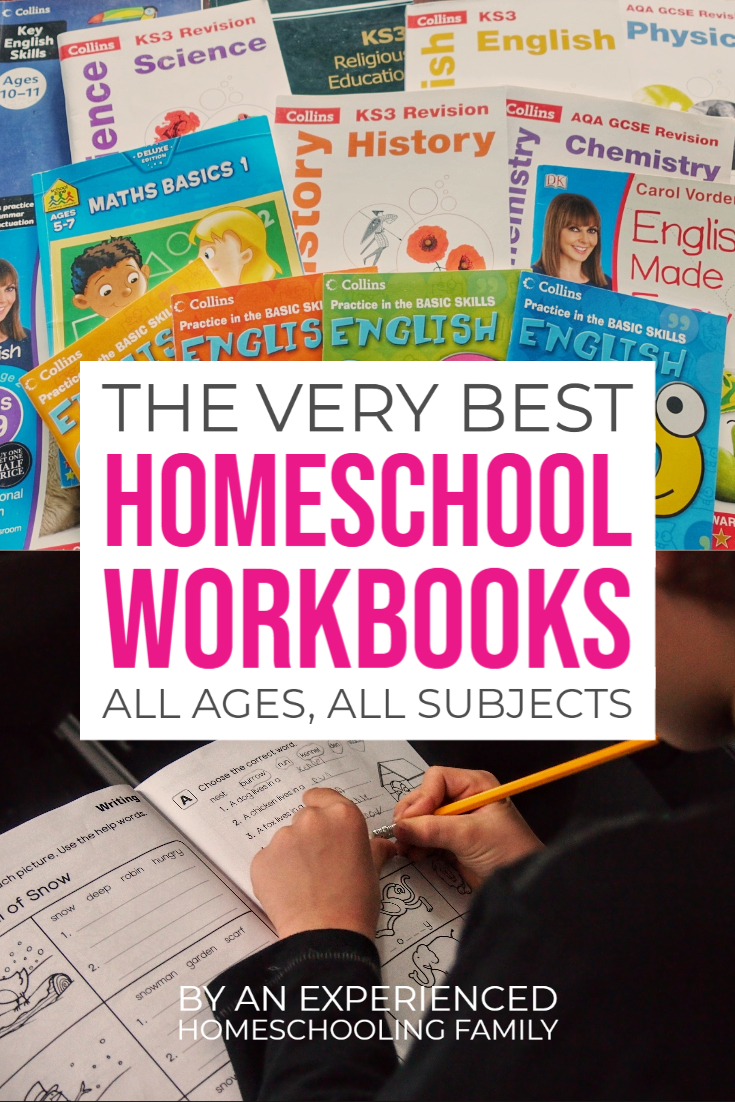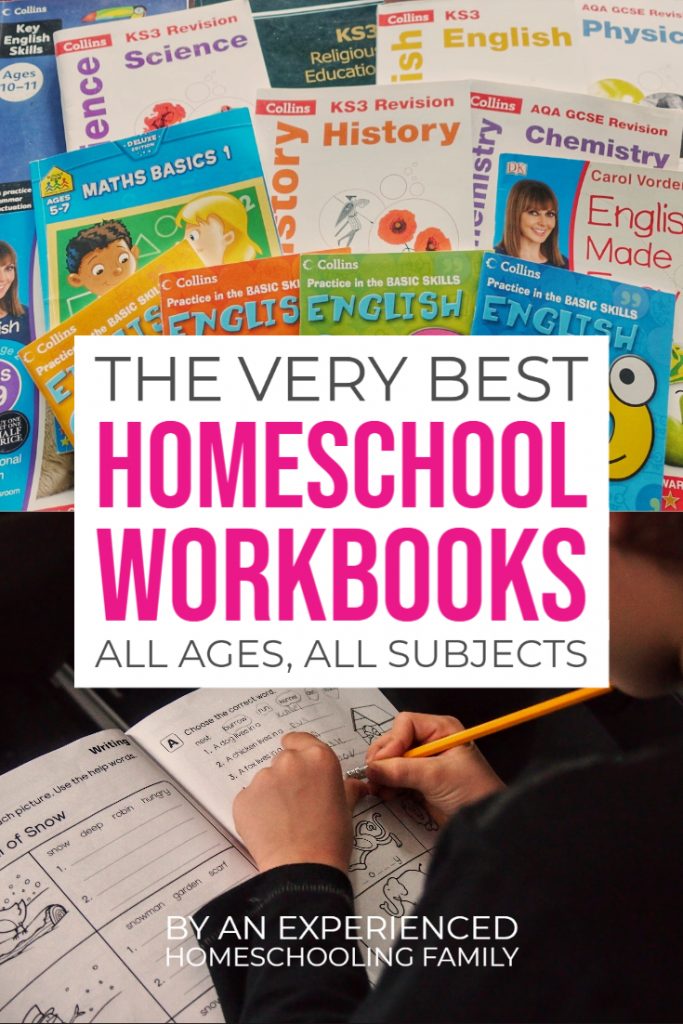 Conclusion on Workbooks for Homeschooling
We've loved our workbooks over the years. I still have many in the house for my teens but as homeschooled kids get older good ones do become harder to find. Take a look at some of the books above. Would they suit your child? Don't forget, keep your homeschooling fun, stay happy and stay interested. Once the interest has evaporated for the day, maybe look into some project based unschooling instead.