Deep thought is something I suffer from, often the 3 am lying awake variety. This morning's episode brought me to an idea that I felt big enough to share.
I apologise if somebody, somewhere has said this same thing before with figures, statistics and research. It's new to me, and I hope to you. My thought for the day, that school is the worst possible place to get an education and if you're looking for the best way to educate your child, look elsewhere.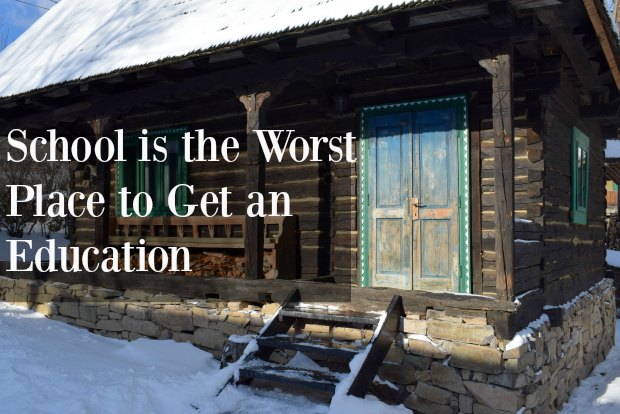 Why School is a Bad Place to Learn
Yesterday I was doing crosswords with my boys. Actually, it was "school" dressed up as crosswords. It was the first time we'd opened any homeschool workbooks since before the big Thailand trip, so don't think we're those homeschoolers, we're not.
This book had clues that were "educational", things like, what's the past tense of x, what's the antonym of y, what's the adjective of z, so I felt like we were doing school. Why anyone really needs to know ( particularly not a young child) what synonyms, homophones and antonyms are is beyond me but that's beside the point. Nothing very profound there, but what blew me away was the boys' spelling.
Neither of these kids has ever been conventionally taught to spell. No drilling, no memorisation, no lists. They've just got on with their lives, played lots of video games, read lots of books, watched lots of YouTube videos and travelled the world in between. No spelling tests, nope, never. But they can spell. Better than their father and he went to school.
It was particularly noticeable in my 10-year-old because the last time I checked, he couldn't spell. Now he can.
Their spelling has come from everyday life. Mostly it's come from chatting to other gamers in little text boxes and labeling their Minecraft creations. Some will have come from their reading.
Sure, in the early days we used a few work books with the word " spelling" in the title, but I used those more to persuade them to write. I KNOW that they didn't memorize spellings back then. This was one series we liked.
So back to the thought. Why do kids in school have to be taught to spell? Well, obviously it's a function of herd education that everyone in the room has to be at the same point at the same time.
The kids have to be moved along the conveyor belt at a set pace with no wiggle room for anyone who wants to race ahead or drag their feet. That's just the way it is. But here's deep thought #2, school is such a sterile environment, that those kids aren't going to learn any other way.
Kids in school are essentially spending their childhoods sitting in a box.
Kids in school can't play video games, they can't access the internet, they can't watch YouTube videos, they can't chat online to their friends, they can't interact with knowledgeable adults and they can't choose what to read, be it the latest Rick Riordan or ever-changing street signs.
They're stuck in a room that barely changes day by day.
They have to listen, or pretend to listen, with no other option for developing their skills. I'm sure the teachers are doing their very best but wow, what a sterile environment.  Am I making sense? So while free kids can go where they please, do what they like, those in a classroom are stuck in a box. Really, what is there to learn in that box?
Don't get me wrong I went to a great school and had some (only some) wonderful teachers. I mostly hated school but I was academic so the academic bits were OK. My mum and dad weren't free to dedicate their lives to my childhood explorations so school was really my only choice and sure, I assimilated plenty. I passed a whole heap of exams so I must have. I forgot most of it again afterwards, but that's not the point, is it? Incidentally, I never asked to be homeschooled because I never knew homeschooling existed back then.
The facts I memorised in school aren't the ones I use to run my life, make myself happy, care for my family or make a living, but heck, I was educated.
But the box thing. Kids in a box are cut off from the world with no chance to learn what they need and want to learn at that moment, instead people try to fill their heads with antonyms and homophones. There are varying degrees of success. It's just not right. But I get it now, I get why they have to be taught, it's because boxes don't allow natural learning.
Where Kids Outside School Get Their Education
Kids who don't go to school, are worldschooled, homeschooled, or unschooled, get their education in surprising places.
Books
Videos
Movies
The tech equipment they use every day (usually better than their parents)
The diverse people they meet, of all ages
The internet, the greatest collection of knowledge imaginable
Their families
The forests, oceans, skies and deserts
TV even, we don't have one but I'm sure they do.
Plants, animals, nature, seasons, weather
Hammers, skateboards, levers and bicycles
Swimming pools, cricket pitches, pool tables and climbing walls
Museums, zoos and amusement parks
Everywhere, is the short answer, they learn everywhere.
They would learn nothing in a box.
Science. Let's talk about science. Because some people will say,
" Yes that's fine but this is only spelling, what about big, hard subjects, like science?"
Yesterday, after the crosswords, I got out a couple of science books, our internet was down, we were bored. We all read a bit aloud then answered some questions in a book. There was nothing in the school science books that the kids didn't know already. They've picked it up naturally from Steve Backshall, museums, books and their mum's chatter. Will they ever need that school science? At the moment we don't know, obviously, they're too young to decide their futures. Science is useful to me in cooking, my own health, hygiene, growing plants and many aspects of daily life. It's good to know what metabolism is, what nutrients you need, how medicines work and if they are really needed, but this stuff doesn't have to come from a classroom. Most people don't get it from a classroom, most people don't know a lot of stuff they should. The best use I've found so far for my education is in passing it on to my kids, I wonder what they'll do with it?
Books, we love books!
I was a professional scientist, some of the books we keep at home are below.
Here's a video I discovered yesterday and thought it so good and well explained that I should share. This young man will go far. No, that's not true, he already has gone far, he has 900,000+ YouTube followers and the tech skills that go with that, that equates to a very healthy income. He touches on some of the statics I should have shared in this post. Kids educated outside school consistently out-perform their regular-schooled peers.
Thanks for being here, thanks for reading. Hope I'm making sense. Can you see any major objections to my latest brain wave? I'm here to support, help and encourage. We all have wobbles, doubts and fears when we decide to buck convention and educate outside of school and some of us are quite isolated. I just want to send hugs, you're doing a wonderful thing. Sign up to follow!