Hi, glad you're here, my 7-year-old can't read either. In fact, go back a couple of years and my first 7-year-old couldn't read.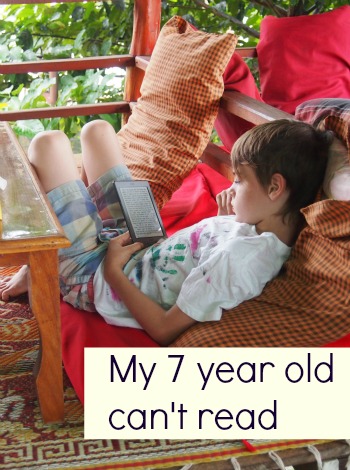 It seems to be an epidemic, this non-reading 7-year-old thing, and it seems to worry mums of 6-year-olds and 8-year-olds too. I'm here to make you feel better and maybe help you help your child to learn to read.
7 Year Old Can't Read
Child 1 was in school and couldn't read in year 2. So bad was his literacy that he wasn't doing any maths through total inability to read the questions.
Child 2 had been unschooled, he'd never been to school and never been made to read.
He showed great promise, it looked as if he was going to teach himself to read as he picked things up so quickly at home from charts, cards, and online fun. Then he just stopped. He lost interest for much over a year and totally didn't want to go there.
So What To Do to Help Them Learn to Read?
Well, do we really need to "do" anything? Seven is still very young and in a perfect world we shouldn't expect 7-year-olds to read. Unfortunately the school system in most countries says they should.
It really isn't going to make much difference if they learn at 5, 6, 7 or 10, but, if you're here you're clearly concerned.
Children all learn at their own pace and maybe neither child was ready to make that next step. Or were they? Was there an issue with the way they were being helped with their reading ?
Alongside the homeschool workbooks and the heavy parental involvement, we can offer you a free trial of Reading Eggs, it's a 100% online reading and English programme. It helps children with literacy right from the beginning, to age 13. Both of my boys had access to this programme, enjoyed it as a game, and it helped them progress to the point of being superb readers today. It does use phonics, is used in schools, and all up, we found it really good. It's available in UK, US, and Australian versions and accents. Click through at the link above and give it a try.
Another option is ABCmouse, here you can access school-style graded readers plus other literacy-related learning curriculum. Our link should give you a free 30 day trial.
My Solutions To The-Not-Reading-Thing
I pulled child 1 out of school as soon as I found out he was being left behind. I had the homeschooling application in the post that weekend and he hasn't been inside a classroom since.
I'm not saying that homeschooling will solve all problems and I know that not everyone would want to, but if you're on the fence, try looking at " Should we Homeschool" or this one " The Pros and Cons of Homeschooling".
We ditched the graded readers in favour of Roald Dahl, we snuggled together in bed, I read a word, he read a word, then I read a line, he read a line, then I read a paragraph, he read a paragraph. It took one book ( it was The Very Hungry Crocodile), all of it read in my big soft bed, and he was away.
He polished off half a dozen Roald Dahls before he hit the Harry Potters. He adores books now, can't get enough of them, they are a joy to him and his reading is a joy to me.
He has since told me that he resented being forced to read "baby books" in school. He says life without reading would be "Absolute Hell, every day."
Child 2 was never going to roll that way. He really doesn't want to read, but he does like to write and he's driven by competition, excelling and an urge to make money. Watch out Richard Branson, Boo is on your heels!
Carol Vorderman is our best friend, we love her books for English, Maths, and Science.
My solution with this tough nut was to get him reading, and not let him realise he was actually doing so.
No readers, no way, but written homeschool workbooks seemed to float his boat. Simple English books where he just had to fill in missing letters or circle a particular word helped a lot.
Huge improvements came within weeks and he was more than happy to have a go, so long as he got everything right.
He enjoys word searches and simple crosswords, he does those for fun, but a big breakthrough with Child 2 was blogging.
I set him up with his own blog some time last year when he showed an interest in sharing his photos with the world. A couple of weeks ago he got heavily back into the blog and has been churning out a post every day. At first I typed his words for him, within days he was typing them himself.
Sure, he asks me how to spell all but the simplest words, but that's great, he's learning. He's so impressed with seeing his own viewing figures grow and the distant prospect of making some money that it's hard to get him off the computer.
He loves receiving comments and reads them himself, with a little help. He always reads back his posts to me before he hits publish, just to check everything is OK. He's doing incredible things but he STILL thinks he can't read.
Whatever, I'm happy with that, he'll wake up one day to his own ability, I'm sure.
It's Never One Size Fits All in Education
Of course you could leave them in school, pay for tutors, get medical assessments, check for dyslexia and all that stuff. We didn't. If you choose that route because it's best for your child then more power to you. It's all about what's best for the individual child at the end of the day.
If Your 7-Year-Old Can't Read, Don't Stress
Don't force it. Watch and wait, find out what floats their boat, it worked for us, maybe it will work for you.
You could, of course, take the radical unschooling route and leave them to read when they're ready, that's cool, but not for me. I think their lives would be enriched by reading, so I want to get it nailed, but I wasn't in the rush that the schools are in. I guess we take the middle ground.
Don't turn them off the written word with those horrible readers. They work for some, but not for all. Don't push, criticise or shame them into reading. Give them choices, make it fun and take the pressure off. Find any sort of puzzle or game that involves words. Child 2 loves Monopoly but we soon realised that he wasn't actually reading the words, he'd memorised the cards. He has, what I think will turn out to be, a photographic memory.
Knowledgeable people have written knowledgeable posts about this subject. I'm just sharing my experiences, from one mum to another. Why?
Because a few years ago I sat at the computer, late at night, tearful and stressed and Googled "My 7-year-old can't read."  Good luck.
His love of animals, cats in particular, lead him to this book series, he was gripped from page 1.
Update: The non-reading 7-year-old in this post is now a book obsessed 9-year-old. He started reading for pleasure when he was 8. The trick was, to find books he loved. He's always adored animals, so the first series of books he consumed was the excellent Warrior Cats series. From here he moved on to Percy Jacksons to become expert in Greek, Roman, and Egyptian Mythology, and right now he's on the last of the Harry Potter series. It all turned out fine in the end.