Some homeschool days nobody feels like doing much, do they? Kids dig their heels in, Mum gets frazzled, a battle of wills develops. This is when to persuade the children that a family board game such as Monopoly would be a really good plan. They will have no idea that they are being educated as they play, I always think of Monopoly as a homeschool resource.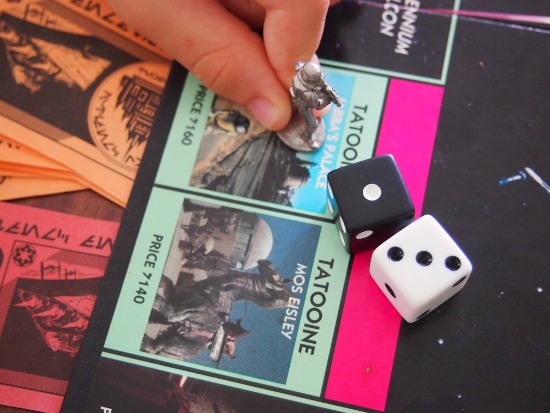 What Can Homeschooled Kids Learn From Monopoly?
So what can children learn from playing Monopoly all day? I've read a few articles and blog posts lately from people not understanding how homeschooling works. These writers claimed that home educated children do "nothing" all day, they just play games.
What utter tosh! I'm not going to link to any of these articles because that would give them more traffic, probably their purpose in publishing this stuff in the first place. Bloggers don't always publish what they really think. Sometimes they publish things to get a response. It's good for business.
So how can Monopoly and other board games count as "school"?
They are counting money and working out how to give change, not just fairly advanced maths, but useful life skills.
They are reading some pretty complex words, way above the suggested reading level of young children. For almost-reading children, like my 6 year old, playing Monopoly takes the place of any formal reading practice that the school lovers would expect him to be doing on a particular day.
They are getting used to all those routine number combinations, which pairs of numbers make 10, how to add or skip count in 50s , how many lots of 200 in 1000.  They are sharpening up their mental maths, mastering numeracy without the boredom and repetition of work sheets. A monopoly board can also introduce children to complex multiplication and division skills.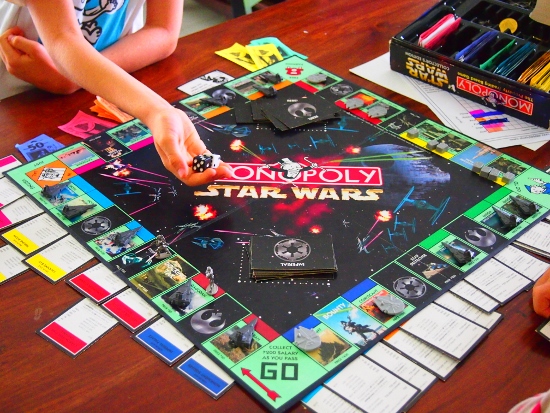 What Age Group is Monopoly Suitable For?
The box says Monopoly is suitable for children aged eight and above. I'd dispute that, my six and eight-year-olds have been playing our Star Wars Monopoly, Collector's Edition, for the last week, it's been out on the table, never put away and my husband and I have been taking it in shifts to join in.  
They've also been playing together, just the two of them, so long as they have got an idea of fair play, taking turns  ( part of the PE curriculum in Australia), and at least one of them is comfortable with reading, it works.
(The links included on this page are affiliate links, if you buy a Monopoly game via one of these links it won't cost you more, but I will make a very small commission.)
Children's Monopoly is also available  (Junior Monopoly) The recommended age for that one is five to eight years old. We haven't tried it, so I can't tell you if it's any good.
If you have non Star Wars loving kids, how about Frozen Monopoly, or for extra homeschool punch Horrible Histories Monopoly ( click through to look) even National Parks Monopoly. The number of permutations the Monopoly board game comes in is now absolutely incredible. You can find one that will particularly appeal to your child, all work brilliantly in a homeschool environment.