History quiz questions and answers, with a free printable pdf for kids and families, suitable as revisions, general knowledge questions, family quiz questions, or just for fun. We love history and learning about history. Enjoy our quiz.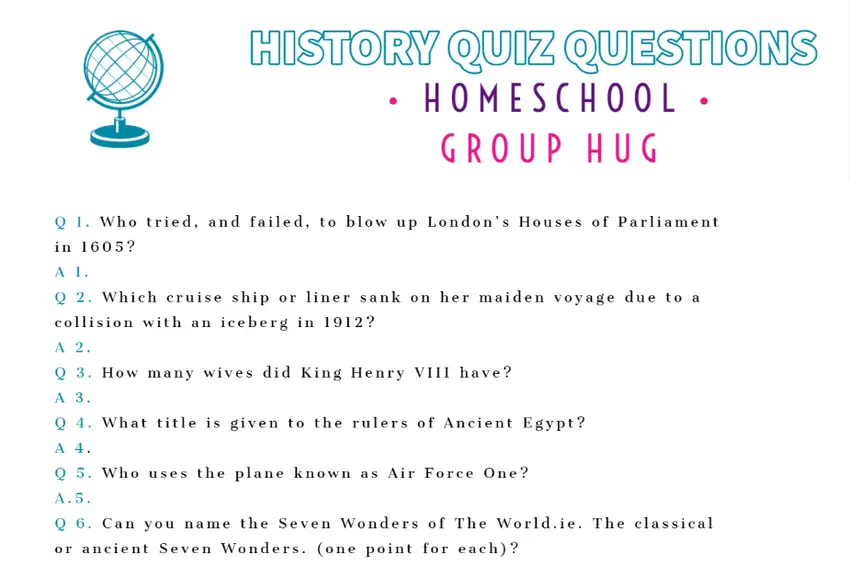 The history quiz questions are hidden on this page. If you open the pdf on your screen you can see them. Alternatively print the free downloadable pdf, with or without the answers. Good luck!
History Quiz Questions
Q 1. Who tried, and failed, to blow up London's Houses of Parliament in 1605? 
Q 2. Which cruise ship or liner sank on her maiden voyage due to a collision with an iceberg in 1912?
Q 3. How many wives did King Henry VIII have?
Q 4. What title is given to the rulers of Ancient Egypt?
Q 5. Who uses the plane known as Air Force One?
Q 6. Can you name the Seven Wonders of The World? The classical or ancient Seven Wonders. (one point for each)?
Q 7. In which modern city is The Colosseum (or Flavian Amphitheatre)?
Q 8. Who was the famous explorer who damaged his ship, HMS Endeavour on the Great Barrier Reef, subsequently spending time repairing it in modern Australia?
Q 9. Who do the faces on Mount Rushmore National Memorial belong to (one point each)?
Q  10. In which war was the Battle of The Somme (or the Somme Offensive)?
Q 11. In which world war were tanks first used?
Q 12. What was Stephenson's Rocket?
Q 13. In which country was Adolf Hitler born?
Q 14. Who developed the first successful printing press?
Q 15.  Which Roman Emperor built a wall across northern Britain in 122 AD
Q 16. The Khmer Rouge and Pol Pot were involved in a regime in which country in the 20th century?
Q 17. Sukhothai and Ayutthaya were ancient capitals of which modern country? 
Q 18. Which collection of fortifications is over 2,300 years old, and was built to protect the Chinese Empire from invaders, including the Mongolians? 
Q 19. What, in 1666, brought a city to ashes and helped end a bubonic plague outbreak in this city?
Q 20. Who was "The Lady With The Lamp" and revolutionised nursing during The Crimean War?
Q 21 Where was democracy first developed in the 6th century BC?
Q 22. In 1963, this man made an iconic speech at the Lincoln Memorial. It is known as the "I have a dream" speech. Who was he?
Q 23. What was the deadliest war ever fought, resulting in the death of over 60 million people and the involvement of over 30 nations?
Q 24.  Where was paper invented in the second century BC? This was also the birthplace of gunpowder, printing, and the compass.
Q 25.  In 1969, who became the first man to set foot on the moon?
How did you do? Tell us in the comments. The maximum score is 29.
History Quiz Questions and Answers
Just open our free printable pdf to view, print, or download the history quiz questions and answers for your kids. Alternatively, the answers are on this page, below.
History Quiz Questions For Kids Answers
A 1. Guy Fawkes
A 2. The Titanic
A 3. Six
A 4. Pharaoh
A.5. The President of The United States of America 
A 6. The great pyramid at Giza, the Hanging Gardens of Babylon, the Temple of Artemis at Ephesus, the Statue of Zeus at Olympia, the Mausoleum at Halicarnassus, the Colossus at Rhodes, the Lighthouse of Alexandria.
A 8. Rome
A 8. Captain James Cook
A 8. Presidents George Washington, Thomas Jefferson, Abraham Lincoln and Theodore Roosevelt
A 10.  The First World War
A 11. The First World War
A 12. It was an early, successful steam locomotive by George Stephenson. It was not the first.
A 13. Austria
A 14. Johannes Gutenburg
A 15. Hadrian
A 16. Cambodia
A 17. Thailand
A 18  The Great Wall of China
A 19. The Great Fire of London
A 20. Florence Nightingale
A 21. Ancient Greece
A 22. Martin Luther King Jr
A 23. World War Two
A 24.  China
A 25. Neil Armstrong
About Us, Quizzes, Kids and Education
We are passionate about education, learning, and know-how here at the Homeschool Group Hug website. My kids were homeschooled, had six full years of worldschooling, and finished their final high school years via an online school. Sitting exams is very possible for homeschooled kids if they choose that path. Alternative education was magical for our family and we're well known in worldschooling and homeschooling circles. We have used homeschool workbooks, reading, online educational sites, and courses and an eclectic mix of homeschool resources throughout their years of formal education.
If you'd like to print the history questions and answers the free pdf printable is here.
Thanks for playing along. Quiz questions are great fun for kids, my children have always enjoyed a fun quiz and lately, online family quizzes entered our lives. Have fun with your history general knowledge and if you'd like any more quizzes with printables for your kids, just let us know, we can make them. It's fun for us to do and helps the kids learn and remember all these interesting facts.