Tamara in an Australian homeschooling mum and former teacher. Tamara is Homeschooling in New South Wales. Welcome to another interview in our "Meet The Homeschoolers" series. This is where we try to present the diverse reasons, methods and families behind homeschooling to encourage and support everyone in the homeschooling community.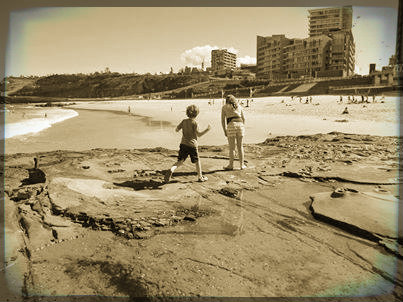 Tamara is a prominent Australian homeschooler and ex-teacher. I've known her as an online friend for a few years and she has a lot to say about homeschooling. She doesn't pull any punches and I love her for it.  Tamara has her own business, Tutor Your own Child. Thanks Tamara!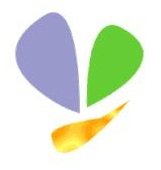 If you'd like to be featured in Meet The Homeschoolers, drop me a line at contact@homeschoolgrouphug.com.
Meet The Homeschoolers: Tamara a Prominent Australian Homeschooler
Would you briefly introduce yourself? How long have you been homeschooling, how many children are you responsible for educating and how old are they?
My name is Tamara Kidd, I've been home educating for 7 years and I have two children DD(2001) and DS (2004).
Why Do You Homeschool?
What are your reasons for Homeschooling? Did your children ever go to school?
Initially our decision to home educate was my daughter's suggestion, when she was 5 years old.
She had a friend who was going to be home educating. They had both attended a Montessori Preschool and while the friend stayed on to do the extended day, or third year of preschool, my daughter wanted to attend Kindergarten.
After the teachers suggested she cut back on her reading to allow the other children to catch up, she was less than impressed with what mainstream school had to offer her. Her friend was set to start home education the following year but we started early, Term 2 of Kindergarten. Not long after she began reading the Harry Potter series, in less than 2 years she had finished the series.
Although my daughter has gone back twice to school (the longest was one whole year in year 2) her brother barely finished one year of Montessori Preschool and has never attended any other school.
Basically our reason for homeschooling is that schools are not an option. I've been a Primary teacher myself and I know full well the limitations on students for opportunities to learn real world lessons, freely follow their passions, learn at their own pace and at a level to match their abilities.
The forced, segregated and highly regulated socialisation in schools does not prepare children for a world where you are judged harshly for behaviours that must be embraced to survive a hostile playground.
As the years roll on my daughter would have started high school this year. To give up on her high quality learning lifestyle and friendships that exist because she's got time to develop deep connections, to attend a high school is not even a choice.
Both of my children are free to attend school if they want to, at any time. They both know what school has to offer and it just will never compete with what they have.
What is your educational and career background?
I have a background in Visual Arts including painting and photography, Secretarial Office administration and Small Business operations, Primary Education and History as well as training in the Montessori Method.
I've worked as a tutor for over 20 years and currently I'm an Educational Consultant for a business I started in 2007 called tutoryourownchild.com.
I help parents with schooled children learn how to tutor their own children in any subject and increase their grades by understanding the school system. I help parents new to home education in topics such as registration and program development.
Where did you get your education as a child?
I attended my local public Primary and High Schools. Both have become disadvantaged schools since I left. They lacked many resources and the teaching style was authoritarian.
I've always wanted to be a teacher since I was 3 years old, at Preschool. I've watched how adults interact with children and held fast to what it feels like to be a child in that position. This mindset still underlines my approach to how children learn through observation.
What's Your Homeschooling Style?
Can you describe your style of homeschooling?
We're 3 people who all love learning, co-creating what we want out of life and meeting the obligations that come with being registered Home Educators with the NSW Board of Studies.
We use a lot of Montessori and I would definitely say that the Montessori Philosophy is alive and well in our home. We're cooperative learners and teach each other, but mostly we're interacting with the world together and sharing our journey. There is no label that really fits what we do that we're comfortable with.
Lets talk curriculum, anything you'd like to say on the subject?
As a former teacher and student in our education system, the curriculum I must register with is woefully inadequate.
Too much time spent on mathematical calculations that were based on a need for accuracy in accountancy prior to calculators and computers. We don't need to prepare our young for a life adding up the books for an Industrial factory!  Nor do we need to cherry pick Nationalistic historical moments and ignore how they fit into the bigger picture.
We MUST use the National Montessori Curriculum so we know with assuredness that we are covering the bigger picture of history, global affairs, mathematical concepts and the purpose of knowing certain facts, thoughts and beliefs. We use De Bono and Maslow, we play metacognition games and create our own curriculum when we find new information that isn't in the documents we have.
Australian Homeschoolers : A Schedule
What does your homeschool day look like? Do you have a schedule?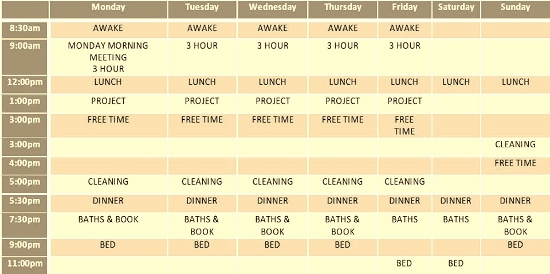 Every Monday starts with a meeting where we discuss what days we're going out, what work needs to be done, what they want to learn, and any resources we may need.
3 Hour is our 3 hour work cycle where my children work on their skills, mostly in English and Maths and where I present new information. It's a classic 'Montessori Method' element.
We have 1 hour for lunch and then 2 hours for project time. That makes 5 hour of 'study' per day and 25 hours per week. I challenge any school to get that much work done per day, without any interruptions, wasted time etc. Even on the days we go out we still start with a work cycle and they always want to do their projects when we get home.
Their projects are interest based deep study, such as in animation, computer programming, designing, researching Japanese art. etc.
Do Homeschoolers Follow The School Schedule?
Do you follow the school system of working weeks and terms?
We currently do but that's to match what their schooled friends are doing. Both of my children have homeschooled, unschooled and schooled friends. The schooled friends are local and we have playdates at least every two weeks, plus sleep-overs in the holidays.
We use to not even have a routine but that ended up not suiting us. It's a personal preference.
What is your one favourite homeschool resource?
The Internet! It really has made 'all learning possible' and I believe if you can 'Google' you can home educate. If you think about it, even someone working can do 25 hours per week around their hours, any question they have you can find answers online and the networking and support is so incredibly awesome!
Favourite Aspects of Homeschooling?
Can you tell us the three best things about homeschooling for your family?
Quality of education and amount of opportunities to learn from life, daily. Socialisation is real world and polite, we have no behaviour problems in our home and no bullying.
We get to be a healthy cooperative family, and that's something that deeply heartens and saddens us when we see families being stressed due to issues from school. I know sometimes you 'have no choice but to send your children to school' however homeschooling shouldn't be dismissed as easily as it is. We don't have the drama many assume is just part and parcel of having children.
New South Wales Homeschoolers
What are the government or state homeschool regulations where you live?
We have an inspection every 2 years by the NSW Board of Studies where they come into our home, assess what has been covered and they look at our next two year plan, which complies with the BOS curriculum and guidelines.
It's always a little stressful before however once it's happening the inspection is actually very enjoyable. The Inspectors are always passionate about learning and they are very supportive of home education.
They understand that parents have a legal right to homeschool and they are only there to make sure we are capable. In all my years I've only met one parent who failed the Inspection and that was only due to the 2 year plan not meeting their guidelines.
The registration kit does explain it fully and you're more than welcome to call the Home Education Unit at the BOS and someone will talk you through the paperwork.
In NSW Home Education is not overseen by the Department of Education or by schools and for this I am grateful.
We've had a sad time of hearing about parents bullied by schools who misinform them that they are not allowed to homeschool or that they need the school's permission. This is a lie!
What one thing would you like to tell the world, homeschoolers and non homeschoolers, about education?
Education is a natural act of every human to learn. When you have interest and match it with opportunity you get education.
When you have no interest and forced opportunity which then is backed with expectation and examination you see indoctrination, learning problems, stress and rebellion. This is not because the child is bad or can't learn, it is because the approach to learning is wrong.
Humans do not need to be forced to learn. Unfortunately our current education system was born out of a time of social engineering, Eugenics, Industrialisation and top down management approaches to governing people.
Whether you are homeschooling or not I implore you, talk with your child and connect with them as fellow humans. Protect their right to be a human and learn naturally without trauma, stress, force etc.
Don't punish your child for not doing a task you deem important to know, think about why you want them to know about it and if it's not for selfish reasons then discuss your reasons with them. If they do want to learn after that, but they have another way to learn it, then let them, ask, don't tell or boss.
About Tamara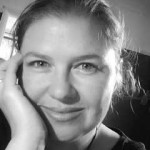 In 2007 I began tutoryourownchild.com, a web based consulting business. I turned something I had been doing for free, at that stage for about 10 years, into a 'stay at home business'.
My website is a blog of what we do as home educating people, my own learning and reflections about education as well as notes taken from the field, as an Educational Consultant. I'm also on Twitter, Facebook, Pinterest, Instagram and Linkedin.