If you're new to homeschooling, I want to reassure you that you're not the only one having bad days. Things go wrong, it all gets too much, the kids won't cooperate and nerves get frazzled. On those days homeschooling sucks bigtime.
I've been homeschooling a long time. The boys are 11 and 9 now and I can see, it's more than obvious, that they are getting a great education. I can see it and new friends often comment on it. Which is great. Really freaking fantastic. But still, we all have sucky days, and that's what I want to talk about right now, because I just had one.
Through the early days I made mistakes as a new homeschool mom and sure homeschooling has its positives, pros and cons but sometimes when life gets you down, it can feel as though homeschooling sucks deeply. It always pays to remember the alternatives to homeschooling and the reasons you chose homeschooling in the first place.
Homeschooling Sucks
My life is an emotional roller-coaster.
It's not just the homeschooling, numerous other factors have me spinning from elation to misery almost on an hourly basis.
You know, trying to make a living as a blogger which is almost working out, some days. Then there's trying to hold the full-time family traveller thing together. The nomadic lifestyle is great, but there is self-doubt. We're also trying to cope without my husband currently. He's in London, we're in Romania. We miss him and I'm useless with an axe. That and worry and stress over health, very elderly family, their sicknesses, and the state of the world generally. Homeschooling is often just an extra stress.
Sometimes homeschooling sucks and don't let anyone tell you otherwise.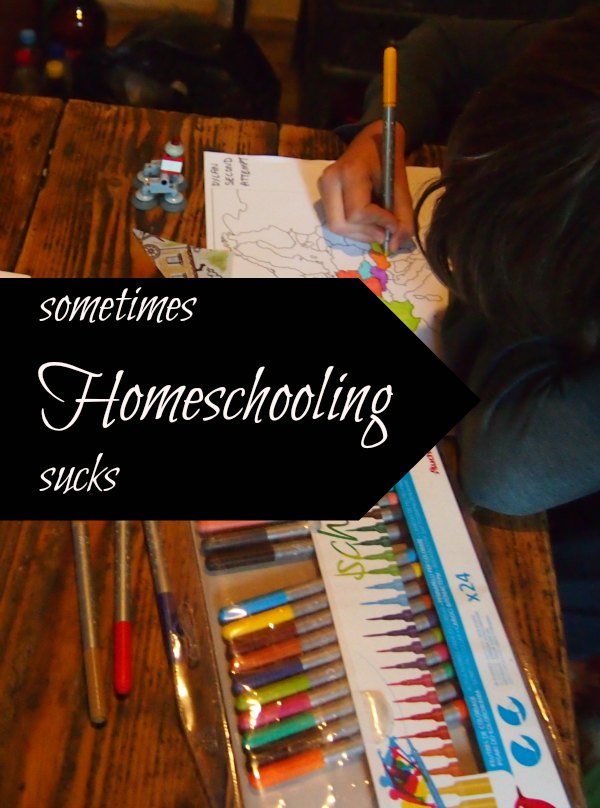 Being at home all day sucks
Normal people get up, get ready, leave the house for work or school, interact with numerous other human beings, come home, eat, pass the evening in chores or pleasures, then fall into an exhausted sleep. They look forward to weekends.
We don't. We move from bed to family room to bed again.
OK, all those homeschoolers in the shiny blog posts are out on field trips or meeting up with their chums at homeschool group. That's not the daily reality for a lot of us. Mostly, homeschoolers are at home. It gets dull.
But never as dull or boring as sitting in a classroom or an unloved office all day, year on year dreaming of weekends. Remember that, always. I've been there, both places, freedom is so much better.
Every day is a weekend day for homeschoolers and when we need to go out for a change of scene, we can. We have that freedom of choice.
Not having any money sucks
Most of us have to sacrifice a salary to home educate our kids. Single homeschooling parents bravely sacrifice their only salary.
We will never be well off. We can't afford fancy holidays, slick cars or the latest, greatest TV innovation. Yet ironically, we have more free time to enjoy them. Isn't freedom better than money and "stuff"?
What we can afford is full time family travel, through the miracle of living a non-conventional lifestyle.
Having to cook 3 meals a day sucks
Just once, I'd like to not have to provide them with a meal. Not think about their nutrition, not think about our budget and not wash up afterwards. I used to love cooking back when it was something I did out of enjoyment rather than necessity.
3 meals a day, every day, for years and years, takes all the fun out of it.
But we're on the dawn of a new era here and washing up is being taken off my hands occasionally. The boys know how to cook through years of watching me.
Any day now, any second, I'll hear "Mum, can I cook dinner?" I'll know that first incredible meal will be within budget, have all relevant food groups represented and be delicious. This is because they learned from the best. That will be better than any fancy restaurant.
Having zero me-time sucks
It would be nice to get a pedicure or a fancy haircut. Nicer still to take a solo shopping trip or get a massage.
I've been with one or both of my children, 24/7 for almost 12 years now. We know each other inside out, the good and the bad. We're close and we've been side by side every step of the way while sharing every milestone. That's a wonderful thing.
I'm only liking the idea of me-time, perfect hair and toenails through peer pressure. I'd rather have shared time with these new people we created, any day.
When they don't get it sucks
Yesterday we got to the end of a workbook. It became apparent that Boo just didn't "get" multiplication and division. He can do it, he has a gift with numbers, but school style problems and the prescribed written method do nothing for him.
What the heck, he doesn't go to school, he doesn't have to do maths the way the government says he should. Time to chuck the workbooks in the bin and fuel his passion for Greek mythology instead. The maths will come, it doesn't have to be today.
Not being sure, sucks
It's all a big experiment. We don't know how this educational adventure is going to turn out. Will the kids find enjoyable employment? ( note I don't say "good jobs".) Will they be happy people? Will they be kind, empathic human beings? Will they love or resent us for what we're doing for them?
I don't freaking know! It keeps me awake at night sometimes. Probably more often than you'd expect.
I do know that the kids are happy which is sadly, not always the case in schools. They are literate where not every product of the school system is. I also know that they have enquiring minds and love to read. Reading can be a rare thing these days. I hope I know that whatever happens we will stick together, talk it out and deal with it. We will find a way to do whatever it is they want to do because that's how it's always been with us.
Those sleepless times are when I try to remind myself that the school kids' parents don't know how it will all turn out either. No outcomes are ever assured.
The world is changing, more and more families across the globe are opting out of the school system. There must be good reason for that.
And by the way, as I press the "publish" button, the boys are out of bed and cooking themselves pancakes for breakfast, one eye on pan, one on their books. So far today doesn't suck.
If you're reading this post, you're likely having a bad day as a homeschool mom and are looking for reassurance. Let me share our outcomes. These little boys I wrote about are now big boys, one is just weeks off 18. He's taking further studies, advanced qualifications, and has a job he loves, part-time. His younger brother will sit exams next year, and hopefully will do as well as his brother. We remain close as a family, with zero teen issues. Homeschooling works, or, it worked in our case. I hope you feel better soon!