Teaching children about all world religions is the key to understanding the world, its history and the way things are today. These days the media presents us with a very warped image of Islam and there are far too many misunderstandings and prejudices stemming from ignorance. If we all took the time to learn a little more about each other, I think the world would be a much nicer place so I asked a friend, an American convert to Islam, what she could tell us about teaching kids Islam in a Muslim homeschool environment. I'll also add some books and resources (free, paid, online) for teaching kids about Islam at home.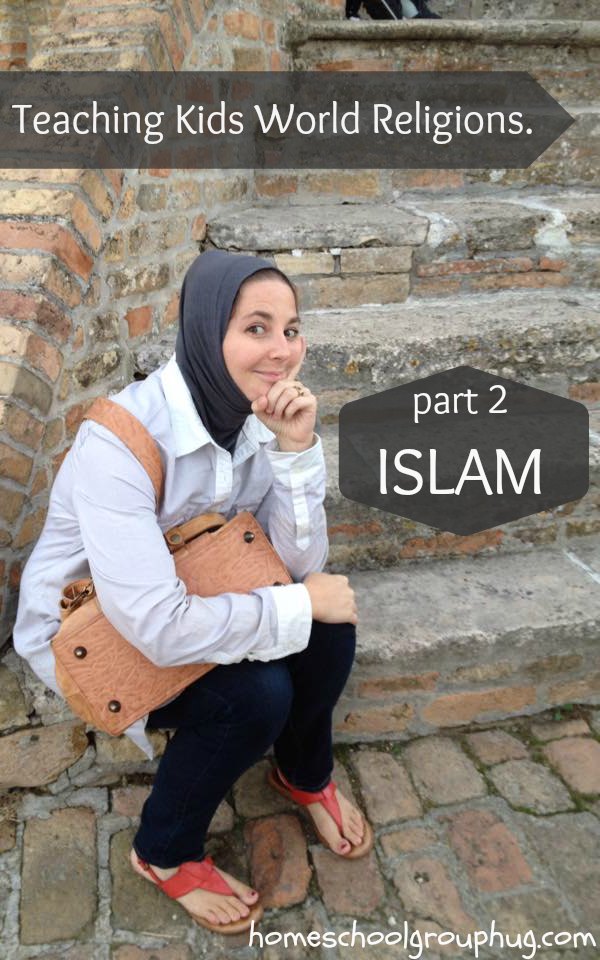 My approach to teaching world religions is maybe a little different to the average, we find out at source. I take the boys to the churches, mosques, and temples and allow them to observe, get involved, and ask as many questions as they like.
We can build on these experiences with more concrete facts later. That's may be not so easy for everyone, and certainly not now, when most kids can only learn at home. In normal times, if you search around you may find local religious centres you could visit, maybe even find practitioners willing to talk to your homeschool group or to individual children and make a homeschool field trip out of it.
Find out about the festivals and traditions of the religion you are studying, maybe cook some typical foods or get involved in an event.
I find that people are normally delighted to share their beliefs and practices, particularly with children.
There are some great resources for you to use at home in explaining Islam, at the end of this post.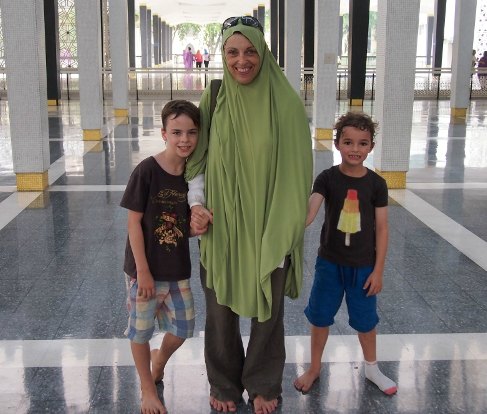 I've followed Amanda's blog, Maroc Mama, for a long time and as an American convert to Islam, I thought she'd do a great job of introducing the 2nd biggest faith in the world to us, so that we can better explain it to our non-Muslim children.
Over to Amanda and her Muslim homeschool approach.
3 Tips for Teaching Kids about Islam
Ten years ago, after marrying my Moroccan husband I chose to convert from Christianity to Islam. Together we're raising two boys and we share our experiences and advice (along with our travels) on my website MarocMama.
Alyson asked me if I would share a few tips for teaching Islam to non-Muslim children and I am more than happy to do so!
Prepare to Teach and to Learn
For many people, Islam is misunderstood and even confusing however, most times the confusion comes from "getting lost in the weeds," as we like to say.
Here are a few practical tips and resources should you want to learn a little more.
Kids ask questions, lots of them. As the teacher or parent, you should be as well informed as you can so that you're prepared to answer questions.
Know the background that the child is coming from so that you can offer them information in a context that they will understand. For example, a child who has some knowledge of other religions may respond well to a comparison.
Through due diligence, you can provide these comparisons in a way that makes sense to them.
The Five Pillars of the Islamic Faith
There are five basic pillars to the Islamic faith. Teaching children what these are will explain the building blocks of the faith. Depending on the child's age you may not need to go any further than this. The pillars are as follows.
Testament of Faith – Each Muslim recites the shahada or testament of faith several times daily through prayer. Stating this testament with the right intentions is also the only thing that is required for someone to become Muslim.
Prayer – Muslims complete 5 prayers a day. The time varies depending on the length of the day.
Fasting – The month of Ramadan is very important to Muslims. During this month Muslims fast from food and drink from sunrise to sunset. The purpose is to remind us of the suffering of others and to focus on faith rather than on worldly things like eating and drinking.
Charity – every Muslim is required to give a portion of their income to charity and to give as much as they can above that. Often charity is given anonymously as it's seen as better to give without praise than to give and be heralded.
Pilgrimage – Every Muslim if able should make the pilgrimage or hajj once in his or her life. During a set period of time the hajj is conducted in Mecca and Medina, Saudi Arabia.
Learning About Islamic Culture and Religion
Culture and Religion varies even within Islam. Just like with every religion there are cultures that play into how people practice their faith.
Muslims in Indonesia may practice their faith in ways that are different to those in Iran.
An interesting activity might be to compare how Muslims in different parts of the world dress or how they celebrate religious holidays like Eid and Ramadan.
Explaining early on the differences between religion and culture can help children as they get older understand when they see something whether it's due to religion or is a cultural interpretation.
Resources for Studying Islam
There are many websites written by Muslim parents that have foods, crafts, and ideas for teaching about holidays.
You may want to introduce children to the Arabic alphabet as a part of their learning about Islam, as the Quran is written in this language.
Arabic is not an easy language to learn but it's a very in-demand language. Who knows you might spark a little linguist to learn?
Some books that I think are great resources for younger children and toddlers to high-school age include;
Alongside books, take a look at some of these online videos, lessons, and courses on Islam.
I strongly believe that teaching kids about all religions and people is important. It doesn't mean they have to believe what they learn but it will help them to be well-rounded and understand a little bit more when they meet others who hold different beliefs.
   Amanda Mouttaki is an American expat living in Marrakech, Morocco with her family. She has been visiting Morocco for the last decade and living in Marrakech permanently since 2013. She writes the blog  MarocMama, and runs the business Marrakech Food Tours with her husband. They have two children and enjoy traveling the world, eating, and learning new things!

I'm looking for experts on other faiths to guest post in this series, if this could be you, please get in touch. Thanks!