My elder child was 12 last week. It's not one of the big milestones, he didn't become a teen and didn't pass from junior school to high school, but he's changed so much I thought I'd tell you about it. Homeschooling a 12 year old is very different to homeschooling an 11, 10, or, obviously, 6 year old. That is one of the positives of home education, it changes and evolves over time, with you and with your child.
It's been a fascinating journey full of pros and cons and one that at times stressed me out, gave me sleepless nights and tied me in knots. So now I want to tell you that it gets better. I want to tell you to chill!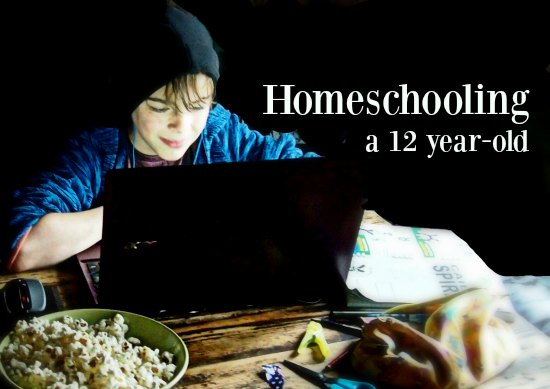 Homeschooling at 12 Years Old
When they were tiny it was all about milestones, getting them to recognise letters and numbers, learning to read, addition, taking away. You could almost check things off a list. I tried to do it that way and got very stressed out when I sometimes couldn't tick the box at the "correct" age.
I wish I could go back and tell my new homeschooler self to relax. That thing they call de-schooling happens then. It's when you start to unlearn what you think education has to look like. You see them learning things all by themselves, just picking things up from life and eventually you realise that mum doesn't really have to be educator at all. Mum just needs to be facilitator. New homeschooler mistakes are plenty but eventually, you find what works.
That's when I went through my total unschooling phase. What happened? They watched Minecraft videos from dawn to dusk. That, to me, was no way to live so we went back to the books. Just a little, not much.
About that time we set off to travel the world, 3 years later that's still what we do. Our home education evolved into an eclectic worldschool, homeschool, unschool mis-mash that suited us all.
But STILL I didn't think they were learning enough.
They were just too young.
My younger son is almost 10, my elder just gone 12, the difference between them is immense.
The 10 year old will still happily watch Minecraft videos all day if he could, the 12 year old has his own ideas and projects he wants to try. When people talked about self motivated learning I would feel inadequate, why weren't MY kids doing that? They were too young.
A big shift happens around 11 or 12, it did for us, anyway. It's a wonderful age ( we parents say that about ever age, right?) but it really is!
They're smart, cool, funny, able to hold their own in adult conversations and bursting with ideas. I can't keep up with HIM now, he ties me in intellectual knots.
He knows more than me in just about every subject he's interested in. That includes history, mythology, classics, some aspects of computers, animation, editing, loads of things! I pride myself on being pretty tech-savvy, it's my job. He's better than me in quite a few areas.
I don't need to teach him at all, he's teaching himself and hopefully as he leaves me for dust he'll teach me. His skills are useful to my business and hopefully will be to his.
I would pull my hair out as he watched all those You Tube videos and animations, but now, WOW! He was packing it all away, getting ideas and inspiration for future use. He's applying it, being inspired and creative, I love what he's doing.
So that's my message for today, if you're still stressing over when this self-motivated learning will start, it does, it will and when it begins, it's amazing!
What is my 12 year old reading?
---
I think that's enough for now!