Can you homeschool in Houston Texas? Yes, you can. To find out more about homeschooling in Houston we talked to a local mum (and former teacher) responsible for her own 3 homeschoolers in Houston, Harris County, Texas. This homeschool mum tells us how she homeschools, why, what facilities, groups, and field trips exist in and around Houston for homeschoolers.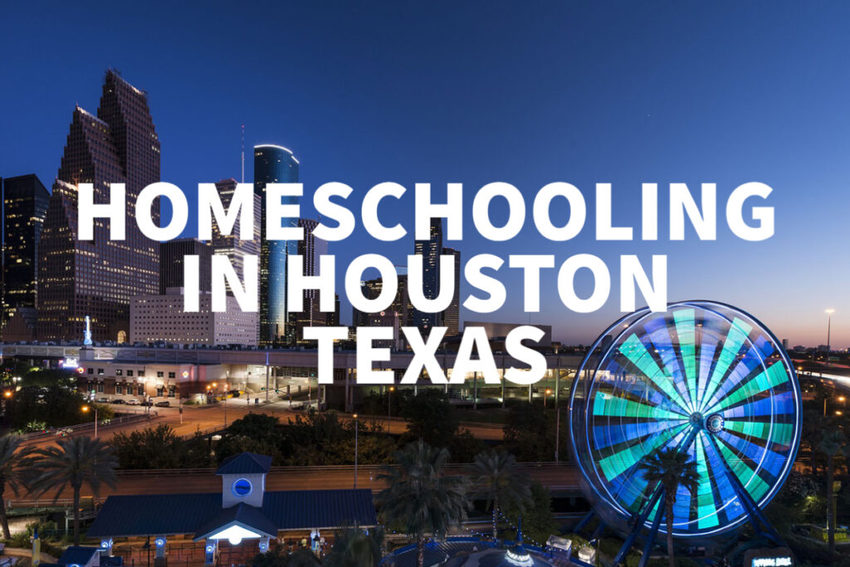 We like to connect homeschooling families from all over the world on this homeschooling blog. If you'd like to contribute your story, from your city, town, or country, get in touch!
Homeschooling in Houston
Houston is a major city in southeast Texas. It is not the state capitol, that honour goes to Austin Texas, but it is the most populous city in Texas and the fourth most populous city in the US. We wanted to find out about homeschooling there.
Would you briefly introduce yourself, how long have you been homeschooling, how many children are you responsible for educating and how old are they?
Hi, I'm Tiffany, and I run the blog Saving Talents.  I'm married with 3 kids, currently ages 8, 5, and 1-year-old. I got my degree in math education and taught middle school math for several years before staying home when my husband (Phillip) and I started having children.
I'm about to start my third year homeschooling the kids.
I also have severe Crohn's disease, which plays a big part in my life – I spend a lot of time in the hospital.
My family and I are members of the Church of Jesus Christ of Latter-day Saints. We live in Houston, Texas in the USA.
What's it like to homeschool in Houston Texas? Are there many homeschoolers in Houston?
Are there homeschool groups, coops, and get-togethers? What are your state requirements there? Is Houston a good place to Homeschool?
It is so easy to homeschool in Houston! Texas itself has very few laws regarding homeschooling requirements. Coupled with the fact that Houston is one of the most culturally diverse cities in The United States, there are so many wonderful homeschooling families nearby.
To homeschool in Houston, all you need to do is to unenroll your child from public school (if they have never attended, you don't need to do anything!). Then as long as you are using a curriculum of some
kind (which can be formed on your own) and you teach them good citizenship and the basics, you're set!
The state of Texas requires that children are educated in five compulsory core subjects, good citizenship, math, reading, spelling, and grammar. No specific curriculum is required but materials must be visual, (books, workbooks, and video screens are acceptable examples.) In the state of Texas, homeschooled kids are not required to sit exams. They are also not required to take standardized tests. Many consider Texas to be one of the most homeschool-friendly states in the US. (source).
We belong to a few different homeschool associations, one of which has over 300 families that are just in our small section of Houston. My children have more opportunities to socialize and participate in extracurriculars than I ever did as a public school child!
Are Homeschooled children in Houston required to sit exams or take tests?
Nope! Houston has very few requirements for homeschooling, including sitting exams. In the state of Texas homeschooled kids are not required to sit exams. They are also not required to take standardized tests.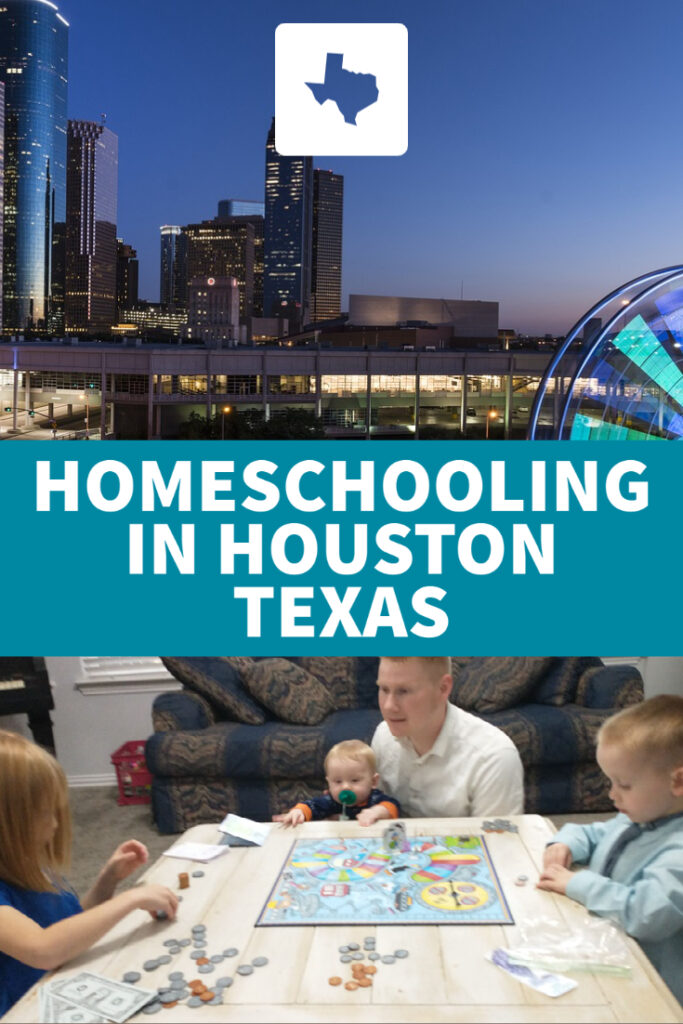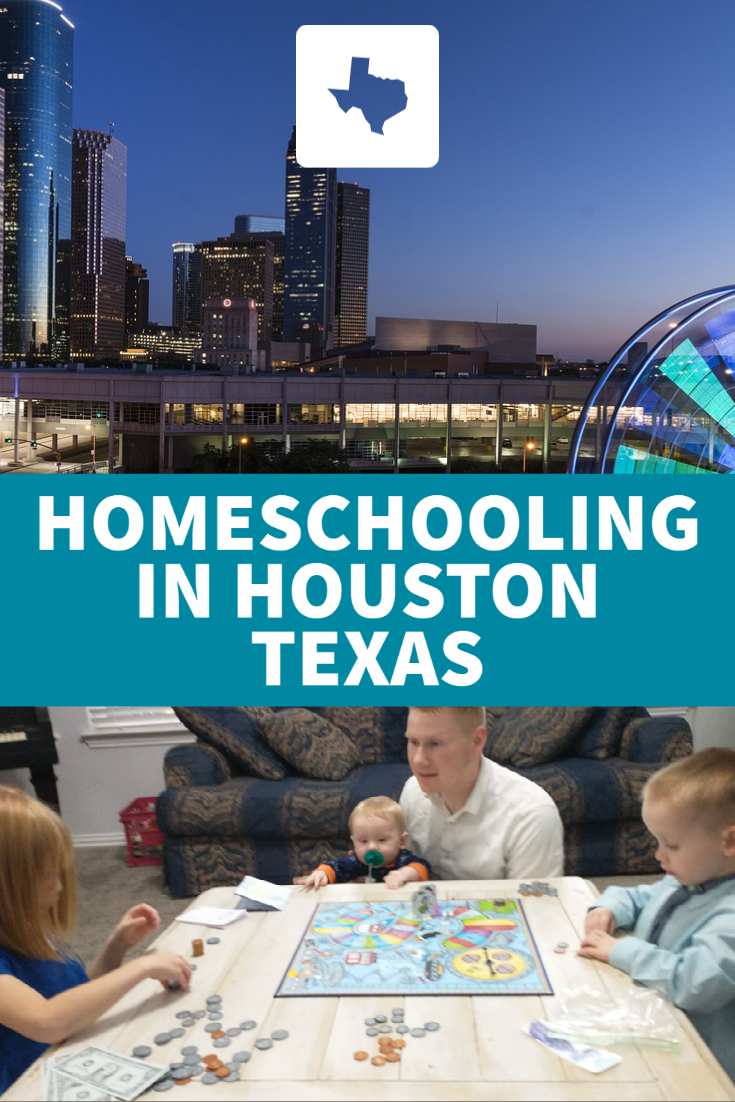 What are your reasons for Homeschooling? Did your children ever go to school?
My oldest two have each gone to preschool a few days a week the year before we started doing kindergarten (homeschooled). I think it helps them a lot in getting a feel for what it's like to be in school
versus playing at home.
The biggest reason I chose to homeschool was how long of a school day we have here. The bus picks up around 7:15 am and drops off at about 4:30 pm. It's so long to be away from home, and school and friends become the main influences on my children. I didn't want that for them.
School and friends would become the main influences on my children if I sent them to school. I didn't want that for them.

Tiffany. Saving Talents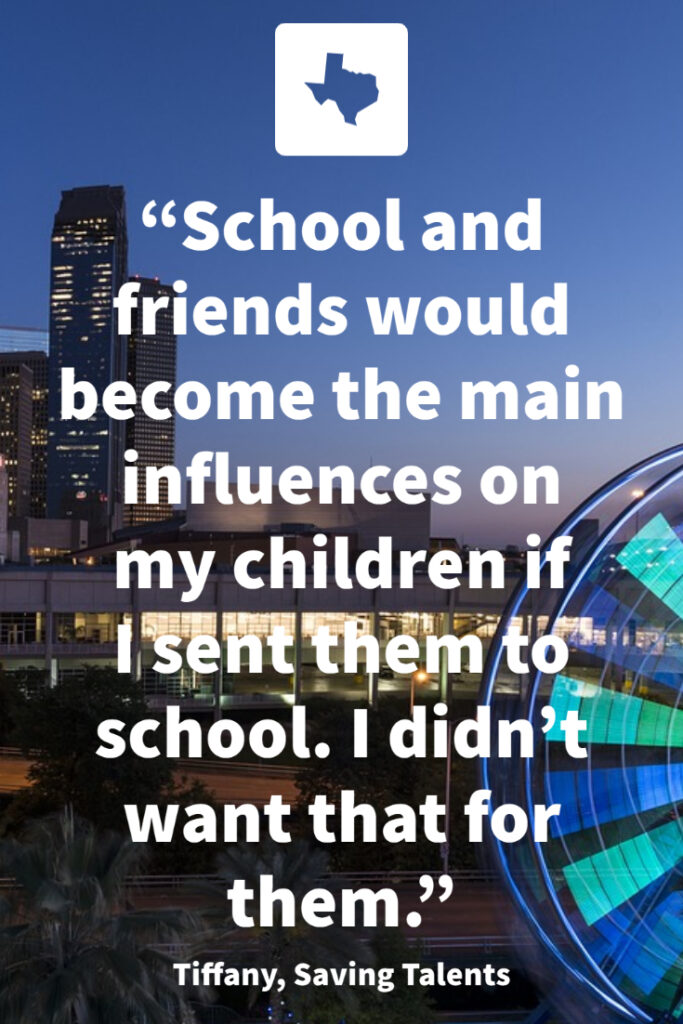 What is your educational and career background? Did your own education (did you go to school in Houston?) affect your choice to homeschool your own children?
Being a middle school math teacher actually made me not want to homeschool! I chose my degree to teach older children because I relate to them much better. It's difficult for me, personally, to do elementary school.
I personally went to public school, and I had some extremely difficult years. We moved a lot, and in each area there were friends and there were bullies. While it was the right choice for me, the world has
changed so much since then.
How Do You Homeschool in Houston?
No two homeschooling families home educate in the exact same way. I wanted to find out what Tiffany's version of homeschooling looks like for her family. Of course, parents find the way that works best for their family. Tiffany's homeschooling approach and methods is quite formal, one of the most formal homeschool setups we've come across so far.
Can you describe your style of homeschooling? Do you like to be called homeschoolers, unschoolers,
etc?
We are definitely homeschoolers who follow a few of Charlotte Mason's methods by using The Good and the Beautiful curriculum. I'm just fine being called homeschoolers!
I never did any unschooling because we do sit and do a curriculum from a book, but there is a lot of flexibility in that.
Let's talk curriculum, anything you'd like to say on the subject?
It's important to find a curriculum that works for your child and their learning styles. Just make sure that is good, however. A math curriculum may work for your kid, but if it skips fractions entirely, then it will cause problems later on!
What does your homeschool day look like? Do you have a schedule?
It's important for my children to have a routine, but we do not have a schedule that is focused on time. Our goal is to get all of the chores and schoolwork done in the morning before lunchtime.
It really helps us to focus when our homeschool room is organized and clean.  Otherwise, we get too distracted
The afternoons are reserved for different extracurriculars, like co-op classes, gymnastics, chess club, choir,
and more.
Do you follow the school system of working weeks and terms? Is this required in Houston?
Not really. We school all year round, only taking off for holidays or vacations. This lets us be flexible in how we do our schooling. Houston doesn't have any requirements that way, which is nice!
What is your one favourite homeschool resource? Do you use workbooks, textbooks, online classes,
boxed curriculum and so on?
I have taught my kids to read using BOB Books – they were the perfect fit for us! I also have really loved The Good and The Beautiful. Everything I have learned about how to homeschool has come from Facebook groups of people with the same values I have and/or who are using the same curriculum as me.
We love using homeschool workbooks over the summer!  It's a great way to keep the kids' brains sharp while still getting a fun summer break that isn't as school-oriented.  I usually choose workbooks that contain material they had learned over the previous school year as a review
Can you tell us the three best things about homeschooling for your family?
Only three?! That's tough to narrow down!
I think the first thing is that my children are each other's best friends. Even though there is a three year gap and they are different genders, they are each other's primary source for playtime and support.
Instead of spending the majority of their time with friends, they spend it with their sibling. That's a bond I never had with my siblings, and it often made me sad as a teenager.
The second thing is that my children get time to be kids! We can do our learning without being stuck at desks for hours. If they are feeling wiggly or squirmy, then we stand up and do our spelling words while hopping on one foot for each letter, for example.
Lastly, I get to know what's going on in my children's heads. They ask me questions, and I am their primary source of influence. I can keep out some of the ugly, evil things in the world until they are ready
to face those things with strength.
I can build their confidence in themselves until they are ready to stand against those who would tear them down. I don't have to un-do or de-program an onslaught of misinformation they may receive from peers or other teachers.
I definitely do not isolate them from the world, but during their formative years, I can make sure they learn things that will develop their minds into kind and caring adults.
What are the best homeschool field trips in or near Houston Texas?
Oh goodness, there are so many things to do and places of interest for homeschoolers in Houston! We love going to the Houston Space Center run by NASA, the Houston Museum of Natural Science, the Children's Museum, and the Houston Zoo.
There are also a lot of great ranches that let kids explore, like Dewberry Farm and the Oil Ranch.
What one thing would you like to tell the world, homeschoolers and non homeschoolers, about
education?
Learning should not come at the expense of education. It is more important for a child to learn and to love to learn than to be educated. Help the child develop confidence in themselves and their ability to learn, and they will end up doing most of the work on their own.
Thank you for sharing your homeschooling life, Tiffany. It's so interesting to learn how homeschoolers home educate, all over the world. I found myself smiling and agreeing with most, maybe all, of Tiffany's answers. Our homeschooling methods are very different, our lives are very different, but the basic beliefs around education and how we want our children's lives to be, match so well. Tiffany is Christian homeschooler, I am a secular homeschooler, she is quite a school-at-home homeschooler and I'm more on the unschooling end of the scale, but our reasons for doing what we do are almost identical. Interestingly, in this interview series, our homeschoolers in New South Wales, Australia, and Thailand, have also been former teachers. We are towards the end of our homeschooling journey, my elder son has now passed his GCSEs and is taking higher studies, hopefully, we can check in again with Tiffany and find out how her young children progressed with their education and lives.